100 Glenns Creek Road
Frankfort, KY 40601
502- 564-7647
Monday – Friday 8:00am – 4:30pm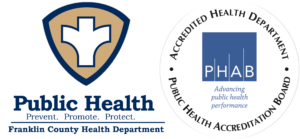 Franklin County Health Department
Free Drive-Thru Testing Events
Dates:  Jan 5th, 2021,  1-5pm
Signup: Click the image (signup will open Fri, Jan 1st @ 8:00am)
Location: Franklin Co Health Dept – Public Health Center
851 East-West Connector,
Frankfort, KY
GPS Directions: Use address 100 Moore Drive, Frankfort, KY
This will be the bank, turn right into FCHD-PHC Building
Additional Dates:
We have additional plans to get back out into the community in January so stay tuned!
Vaccine Process
We want to remind everyone to please be patient and kind as we are working as fast as we can to get through these tiers safely and as comprehensive as possible.
The tiers we are following are what is recommended from the ACIP, CDC and the Kentucky Department for Public Health. We are working to comprehensively cover each tier before moving on to the next tier.
There is no hard and fast date of when the next tiers will be vaccinated but we will let the community know as soon as we know any additional information.
We urge people to continue to check our social media page, website (
fchd.org
), these daily updates and other news media outlets in Franklin County as we will push those community events out in every way possible.
Everyone will have PLENTY of opportunities to signup! 
TIMELINE for Events 
Jan- Phase 1A- Healthcare Providers
Feb – Phase 1B- Schools
March- Phase 1B (persons >70 years of age)
The above link is for individuals in Tier 1b group.
*First Responders – we will continue to reach out at a later date
*K-12 Personnel – contact the School HR for further updates. 
THE ABOVE LINK ISN'T AVAILABLE YET. 
Please keep checking back for updates. 
Volunteers to Vaccinate:
The state is credentialing nursing students, pharmacy students to be vaccine providers so that they can assist the health department with mass vaccinations.   They can enroll at this site https://ky.readyop.com/contact/register/71  
Please know that there is a high probability that the assignment will not be serving within Franklin county.  
No phone number available at this time. 
Vaccine Resources 
The CDC has a number of COVID-19 vaccine resources to help you and your family understand the COVID-19 vaccine.
CDC Vaccine Toolkit – For Healthcare Providers